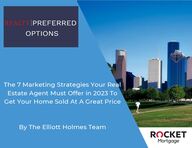 Return to flip book view
Elliott Holmes Team 2023 Seller Presentation
Page 1
The 7 Marketing Strategies Your RealEstate Agent Must Offer in 2023 ToGet Your Home Sold At A Great Price By The Elliott Holmes Team
Page 2
What's the reason for the move?Are you upsizing or downsizing?Selling due to a corporate relocation or relocation on your dime. What's most important to you in this process? (Money, ease, timing?)Have you ever worked with a Realtor before?How was your previous experience?What would you have changed about that process?What was your biggest headache?What are you looking for in an agent/team?Most people that we work with are trying to move forward with their lives in one way or another. They come to us to gain certainty and peace of mind, knowing that the job can get done, and that they'll know from start tofinish that they're getting what they want out of this transition.Most of our clients end up realizing that we make it much smoother thanthey thought it would be and most importantly that hiring us actually makesthem money.YOUR WHY?
Page 3
- This is the main reason why most people sell. To get the most money possible from the sale of your home.IMPORTANT FACTORS WHEN HIRING AN AGENT1. GETTING TOP DOLLAR2. PROVEN TRACK RECORD 3. COMMUNICATION4. QUALITY MARKETING - Is your agent's marketing strategies, con-cepts and materials attractive, effective and consistent?5. SELLING FAST - How long are you willing to wait for the sale of your home?6. PERSONALIZED SERVICE - What special services is your agent providing that others are not?7. EXCELLENT NEGOTIATION - Is your agent an expert negotiator? Many claim to be, but the proof is in the pudding.8. CREATING THE MOST DEMAND - Does your agent create a buzz for your home and is he or she pricing your home correctly?IMPORTANT FACTORS - How is your agent's track record? - Does your agent communicate with you every step of the way?
Page 4
ELLIOTT HOLMES TEAM, REALTY PREFERRED OPTIONS TOP SELLING SOLUTIONS
Page 5
Elliott Holmes Team Representation
Page 6
ELLIOTT HOLMES TEAM, REALTY PREFERRED OPTIONS TOP SELLING SOLUTIONS A1
Page 7
2.5% Full Service ListingFacebook "Coming Soon" Campaign & Yard SignFacebook "Just Listed" CampaignGoogle Banner AdsHyperlocal Mobile Ad MarketingText Messaging, Voice Drops & Email Marketing***NEW FOR 2023***30 Second Hulu Commercials (Video)30 Second Spotify Or Pandora AdsNational Magazine Advertisement**We must have representation 5 monthsbefore home listing goes Active, plusadditional requirements 1.5% Listing Seller Bundle ProgramEverything in our Gold Standard, Full Service ListingsWe also help you with the purchase of your new home& your new mortgage through Rocket Mortgage asyour Rocket Mortgage Loan Originator providing youwith Preferred Pricing
Page 8
Facebook Ad Campaign ExamplesGoogle DisplayBanner AdJust Listed
Page 9
GoogleSearch Ad1st PageListings
Page 10
ELLIOTT HOLMES TEAM, REALTY PREFERRED OPTIONSTOP SELLING SOLUTIONS A2

Page 11
iBuyers & Institution Buyers Get Paid In DaysSkip ShowingsSkip RepairsMove on your ScheduleClose Btw 14 days and 9 monthsLate Checkout 2 to 14 daysExtended Stay 3 daysFree Local Move - Up to 50 miles
Page 12
Page 13
xxxxxxxxxxxxxxx ssssssssssssssssssss
Page 14
2% Listing Buy Before You Sell Cash Backed OffersiBuyer buys your next home for you90 Days buyback guarantee
Page 15
ELLIOTT HOLMES TEAM, REALTY PREFERRED OPTIONS BUY BEFORE YOU SELL
Page 16
Elliott Holmes has been involved with selling homes in MetropolitanHouston since 2007 and is one of Houston's top agents. Elliott utilizeshis extensive experience and passion in marketing to help his clients realize their real estate dreams. Elliott, an outstanding realtor and mortgage loan professional with Realty Preferred Options & RocketMortgage, started out by focusing on new construction builders andprojects, but over time looked for additional ways he could bring value tohis clientsElliott's ability to connect with all types of people, his understanding of theReal Estate industry and sales approach has made Elliott one of the mostinnovative agents in Texas. "I started out as an investor. "I took it upon myselfto master this industry and my hard work has paid off" Elliott has nowbrought his talents to a thriving real estate industry in the Houston areawhere he has some roots. Realty Preferred Options was formed with one goalin mind; attract exceptional agents, with exceptional marketing and service tocreate exceptional results. Pride of ownership of the team radiates through Elliott's actions andpersonality. This career, his business partners and most importantly his clientsmean everything to him. "Realty Preferred Options is not in this for thetransaction, we care about our clients, they become our friends, we wantwhat is best for them"ABOUT ELLIOTT HOLMES
Page 17
Page 18
We use the Internet and our innovative website to make your listing highly visible. With more than 92% of buyers checking the web first when looking for a home, this is a part of your marketingstrategy that you can't afford to miss.Below shows that 99% of people who search for a home online usethree main search engines. We make sure to be as visible aspossible on these platforms to make sure you are as visible aspossible.81%12%6%ONLINE EXPOSURELET'S GET ONLINE!
Page 19
ELLIOTT HOLMES TEAM GOLD STANDARD MARKETINGBanner Display AdsHypermobile AdsRealty PreferredTexting, Voice Drops &Email Marketing
Page 20
COMMUNICATION GUARANTEEOF HOMEOWNERS ARE DISSATISFIED WITH THEIR AGENT'S PERFORMANCECOMMUNICATION is one of the key components to oursuccess. Without it, we are doing a disservice to our clients.72%
Page 21
COMMUNICATION GUARANTEE01 / WEEKLY UPDATES BY PHONE & EMAIL We are available 7 days a week to answer your questions. The weeklyupdates allow us to show you the progress we have made and create a more focused conversation about what we have done and what we have planned.02 / UP-TO-DATE SHOWING FEEDBACK Our customer care agents have systems that will ensure you receivefeed- back after showings in a timely manner.03 / UP-TO-DATE MARKET STATISTICS & TRENDSWHAT YOU SHOULD EXPECT
Page 22
Our unique cloud based platform gives our agents access to the latesttechnologies, training and support they need to help you maximize yourhome's exposure and get you the best possible price. We use the Internet and my innovative digital marketing experience tomake your listing highly visible. With more than 92% of buyers checkingthe web first when looking for a home, this is a part of your marketingstrategy that you can't afford to miss. Here's the gold!- BestInstantOffers.com. submit you home one time and get multiplecash offers- Facebook "coming soon" marketing, not just a yard sign- Facebook "just listed" marketing to active in-market buyers- Google Banner Ad marketing targeting in-market buyers- Hyperlocal Mobile marketing to the buyers home searching the web onmobile devices and within a specific geography- Audio Ads on Spotify- Text Messaging, Voice Drops and Email MarketingTHE DIFFERENCE A REALTY PREFERREDAGENT CAN MAKETHE ELLIOTT HOLMES DIFFERENCE
Page 23
SALES DEPARTMENTMARKETING DEPARTMENTCity Wide, Relocation and International Networkse.g. military, police, etc.GRAPHICDESIGNERBEST INSTANTCASH OFFERSSTAGERPRINTERLISTING AGENTPHOTOGRAPHER/ VIDEOGRAPHERINTERNETMARKETERSALES MANAGER/ADMINISTRATIONHOW OUR TEAM OPERATES BUYERS AGENT
Page 24
Coordinate photographer //Install sign // Install lock box // Loadlisting online to local mls // Answer buyer phone inquiries // Runopen house // Get Feedback // Wait and Pray for a Buyers Agentwith a Client to show up // Get Feedback // Present = negotiateoffer HOW MOST AGENTS OPERATE BEYOND PROFESSIONAL PHOTOS AND VIDEO - 95% OFREAL ESTATE AGENTS IN THE HOUSTON METRO MARKETINVEST LESS THAN $100 IN MARKTEING CREATIVES ANDDIGITAL MARKETING STRATEGIES TO GET YOUR HOMESOLD. AS A RESULT A MINIMUM OF 70% OF THEIR LISTINGS AREACTUALLY SOLD BY A BUYERS AGENT FROM ANOTHERREAL ESTATE AGENCY.MOST AGENTS DO LITTLE TO MARKETTHE PROPERTYUS vs THEM
Page 25
REALTY PREFERRED OPTIONS, IS A FULL SERVICEREAL ESTATE BROKERAGE THAT OPERATES AS ANADVERTISING / MARKETING AGENCY THAT JUSTSHAPPENS TO SELL REAL ESTATE.
Page 26
Our Easy Exit Guarantee allows you to cancelour agreement if you are not satisfied.We Work Diligently to produce exceptionalresults We Fix Problems & issues within 48 hrsEASY EXIT GUARANTEE
Page 27
REMEMBER...1) MARKETING PLAN AND STRATEGIES2) WORLD WIDE INTERNET EXPOSURE3) BRAND POWER4) BROKERAGE POWER5) TEAM SYSTEM LEVERAGE6) PROFESSIONAL STAGERS7) PROFESSIONAL PHOTOGRAPHY/VIDEOGRAPHY8) RELOCATION NETWORKS9) COMMUNICATION GUARANTEE10) EASY EXIT GUARANTEETHE MOST IMPORTANT FACTORSLET'S SUMMARIZE
Page 28
Let's talk! Fill in the info below and we will share additional information and/or answer any questions you may have. send Elliott Holmes Team Or Call 832-746-4541